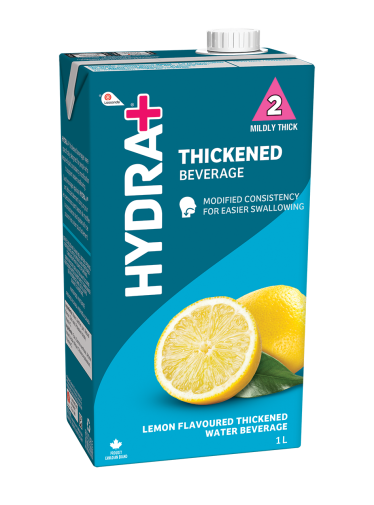 Hydra+ Thickened Drinks
1 L (34 oz) Tetra Pak
Pre-thickened Drinks - Ready to Serve! Buy 2 or more Tetra Paks and save 5%!
---
beverHydra+ thickened drinks are specially formulated to meet the needs of people with swallowing difficulty.  These thickened juices and lemon-flavored water taste delicious and make it easier to stay hydrated.
READY TO DRINK
No mixing required.  Just open the screw on cap and pour!

TASTES GREAT
Delicious flavors:  Apple, Orange, Cranberry, Lemon Water and 2% Milk
CONVENIENT - EASY TO OPEN AND STORE
Sealed 1 L (1000 ml, 34 oz) tetra pak with screw on cap
PRE-THICKENED TO THE PROPER CONSISTENCY
Safe and reliable. No guess work or reliance on others to thicken drinks correctly.
Available in 2 consistencies: 

Level 2, MildlyThick (Nectar)
Level 3, Moderately Thick (Honey)
SHELF STABLE
Shelf life is 365 days from date of manufacture.  Store in a cool dry place.  
RECOMMENDED USAGE
Use to increase the daily fluid intake of individuals who require thickened drinks.   Serve cold or at room temperature.  Refrigerate after opening and use within 10 days.  
Not recommended for children under the age of 12 years without consulting a healthcare professional.
---
Share this Product
---
More from this category