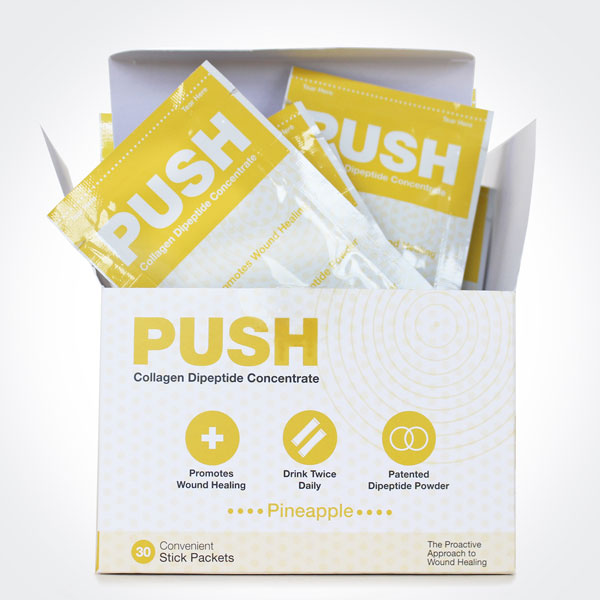 PUSH Collagen Dipeptide Concentrate -
Wound Care Supplement
A blend of powdered collagen dipeptides that helps reduce heal time!
---
Cut wound healing times and prevent new wounds from developing!

 

Not Your Average Collagen Powder

PUSH is a new collagen powder supplement that helps to heal wounds from the inside out.  It contains a patented blend of highly concentrated dipeptides that aids in the increase in absorption of collagen in the body. These collagen dipeptides help stimulate the growth of hyaluronic acid to promote wound healing.
TOP 5 BENEFITS OF TAKING PUSH
Stimulate wound healing from the inside out
Reduce healing times
Jump start stalled wound beds
Increase skin moisture by up to 50%
Improve skin elasticity and texture
WHAT MAKES PUSH COLLAGEN DIPEPTIDES A SUPERIOR WOUND CARE SUPPLEMENT?

EFFECTIVE
Clinical trials indicate that wounds heal in half the time and chronic wounds are usually resolved within weeks.
EASY TO TAKE
Simply add a pre-measured packet or scoop of PUSH powder into 2-3 oz of water.
TASTES GREAT
Available in pineapple & mixed berry flavors.  Patient compliance is excellent due to minimal fluid requirements and a pleasant taste.
BIOAVAILABLE
PUSH is a patented blend of highly concentrated, easily absorbed  dipeptides and is found in human plasma for up to 4 hours.
SUGAR & GLUTEN FREE
PUSH is produced in a gluten free facility and contains no sugar.
ENTERAL
Can be administered in a feeding tube.
PUSH PROVIDES NUTRITIONAL SUPPORT FOR:
Wound healing
Skin tears, bruises & abrasions
Diabetic, pressure & statis ulcers
Unstageable wounds
Surgical sites
Deep tissue injury
Skin, bone & joint health
WHAT ARE COLLAGEN PEPTIDES AND DIPEPTIDES?

Collagen is a protein made up of amino acids.  Collagen peptides are formed by enzymatically breaking down the molecular bonds of the  collagen strands into smaller groups of amino acids.  A dipeptide is composed of two amino acids.
WHAT MAKES PUSH COLLAGEN DIPEPTIDES DIFFERENT?

PUSH is a patented blend of powdered collagen dipeptides that helps reduce heal time.  The highly concentrated dipeptides in PUSH are Proline-Hydroxyproline (PO) and Hydroxyproline-Glycine (OG). They form a dipeptide that is very strong and not easily degraded by stomach acids, and are found in the plasma up to 4 hours after ingestion.  Studies show that PO and OG reach the cellular level in skin, bones and joints.    
These dipeptides send out signals to cells to energize the collagen peptide production by fibrocytes and chondrocytes, promoting growth of hyaluronic acid. This creates resilient tissue, stimulates cell division and aids in wound healing.
WHAT IS THE PUSH WOUND HEALING MECHANISM?
Pressure ulcers heal in 3 stages:
1. Inflammatory Stage:  PO and OG stimulate the fundamental metabolism for wound healing.
2. Granulation Stage:  PUSH stimulates dermal fibroblasts to migrate into the vacant tissue and enhances the components of the extracellular matrix - hyaluronic acid, elastin, and collagen in the re-making phase.
3. Re-making Stage:  PO can help re-epithelialization.
Watch this WoundSource webinar for detailed information about PUSH and how it works.
---
Share this Product
---
More from this category